Click the phone to view the interactive prototype.
To better understand the initiative of Project Pluralist, I educated myself on our client's published research on preventing discrimination & hate through a design-led approach in youth development.
Understanding the
Pluralist Initiative
Extremist attacks and hate crimes are at an all time high in the U.S., with students and young adults being the most at risk for recruitment into these ideologies.
​
In our client's research, she argues that through project-based & experiential learning, we can build resilience against hateful ideologies in our youth.
The Project Pluralist Toolkit was designed out of this notion to be a workshop and facilitation guide for addressing the complex issues of discrimination, intolerance and hate through creative workshops in schools and colleges.
The Toolkit
The heart of the app was to create interactive lesson plans that students could complete at home to earn "stars" and badges, progressing in different Pluralist categories.
​
Alongside these lesson plans are lesson-plan based challenges to compete in against other students.
​
Students get the opportunity to independently learn while also engage with others all in a safe space private to their class. Privacy & safety were the biggest things to consider given the age group of the users.
App Structure
Project Pluralist is a youth focused organization working at the intersection of design and technology to tackle the issues of prejudice, discrimination and hate by cultivating the next generation of pluralist citizens and social innovators.
​
In preparation for its full launch, Project Pluralist asked us to design the interface for a prospective app they would use to extend their in-classroom toolkit to independent at-home learning. I managed our client relations and devised the UI/UX of a fully gamified mobile learning experience.
Project Pluralist
Using Experiential Learning to Build Resilient Youth
Team
Katrina Allick, Haniyyah Gray, & Isabella Zemella
Scope
3 Week Sprint (January 2021)
Are committed by juveniles.
Expressed increased anxiety on the part of minority students
Location for hate crimes are schools and colleges.
In Racial and White Supremacist attacks in Europe
Largest U.S cities saw an increase in hate crimes since 2016.
Resulting from right-wing extremist attacks, compared to 23.4% by Islamic extremist in the U.S.
My team and I defined key limitations in the toolkit that would warrant the need for an app:
​
The toolkit requires...
1. A school's curriculum restructure
2. Time & energy from educators to be trained as workshop facilitators
3. Learning to be done in fixed amount of time (1-3 days)
​
Our goal was to use a research strategy that would lead to our design of an app to address the limitations of the toolkit.
Research Strategy
Given our time frame we decided as a team that the research of all three user groups was the best deliverable we could give to our client.
​
While we would only be designing the user experience of the student, submitting a full research package would benefit her most in terms of her goal: developing the app.
Strategizing Research
within a Sprint
Defining User Group Goals
Examine principles of motivating kids/teaching.
Examine principles of motivation/learning.
Examine relationship with their kids, technology, and learning.
Our team conducted & synthesized 15 user interviews over the course of 4 days. I had the idea to use e-learning game Kahoot with students as a usability test to better understand learning trends of gen z students.
Thinking Beyond
Interviews
I designed a 10 question poll game related to interests, learning habits, and preferences via Kahoot. Strategically, each answer represented four categories of comprehension (visual, audio, written, or social).
​
The purpose of this exercise was to not only help us discover learning trends amongst gen z students, but to also test students' level of engagement when answering questions through game-like structure. My idea behind this was use the opportunity as a replacement for a usability test.
Learning through Play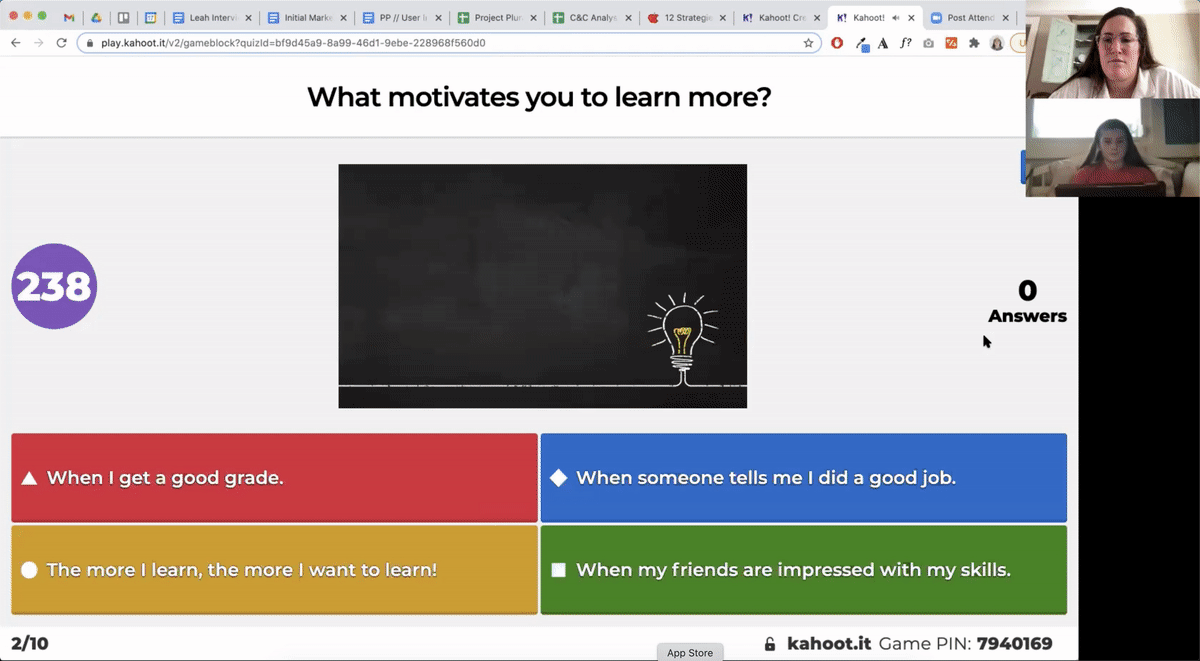 Prefer to work in social settings
Love to discover new information via apps or the internet
Consider themselves a leader
The UX of the app focuses on four main components: progress tracking, variety of learning methods, interactive ranking system, & reward system.
Designing UX with Perspective
Our student persona, Tyler, needs a way to voice her passion for social justice outside of the classroom because she wants to foster her own impact on the world.
​
While we would be designing primarily for Tyler due to time constraints, we formulated three problem statements to design with perspective in mind.
​
The student needed a safe space to independently learn, and the educator and parent needed a way to monitor in a hands off way.
Defining Three Users
The structure of the app overall tested well, but 60% of student users admitted the breakdown of progressions could be explained better.
​
After discussing with our client, we reconsidered the structure of the game to simplify it.
Overall, I focused on cleaning up UI elements/icons in the onboarding, lesson, and progress pages. My goals were to increase intuitiveness & generalize progress.
Testing & Simplifying
Before
After